Every homebuyer should plan to have a qualified, professional home inspection done on any home they plan on purchasing, but savvy homebuyers know there's a lot they can notice themselves when touring a home, before making an offer.
While we are REALTORS® and not professional home inspectors, we have over 20 years of combined experience working with buyers to help them purchase homes and navigate the home inspection process. We always counsel that buyers obtain a professional home inspection -- this post is not meant to circumvent that part of the process; instead, these are a dozen visual cues that a buyer can pay attention to while touring homes, in order to have an idea of the types of things the home inspector will find during that step in the process. Having an idea of what to keep an eye out for while shopping for homes can help a savvy buyer to know what to expect as potential issues in the inspection report and possibly even begin to plan for repairs after closing. (Photos taken from actual inspection reports.)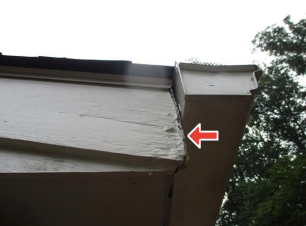 Areas of wood rot around the home's exterior. Pay attention to the wood trim on the exterior of the home -- look for areas that appear (or feel) soft, which can be a sign that the wood is deteriorating from water intrusion. In many cases, the deteriorated portion may be able to be removed/replaced, and caulked, primed and painted to match the existing trim as closely as possible.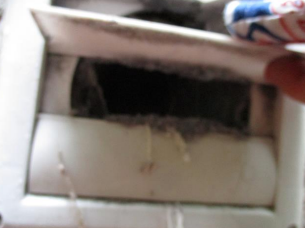 Dryer vent full of lint. One of the most common deferred home maintenance items we see is the dryer vent full of lint. A common fire hazard, dryer vents should be kept clean and free of build-up, but don't be surprised if you see this on a home inspection.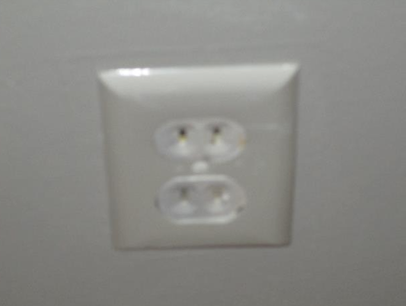 2-prong electrical outlets. If you're buying an older home, you may see some electrical outlets for only 2-prong plugs (rather than 3-prong). This can signal that the outlets (and perhaps the electrical system) is not grounded. While this may not be reason for major concern, this may mean that you need to consult a licensed electrician and you may need to plan/budget to upgrade the electrical system in the home.
Condition of siding. Pay close attention to the condition of the exterior cladding of any home you are considering purchasing. The photo above is of a home with cedar/wood siding -- it shows signs of, at the least, needing to be painted soon; it may also show signs of deterioration. Walk the exterior of the home and pay attention to the siding (as well as the wood trim, as discussed above).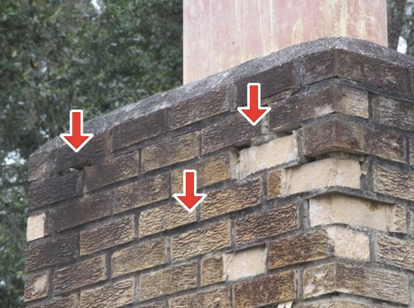 Missing mortar in brickwork. If the home you're considering is brick or has brick accents, such as a chimney or front facade, look for missing mortar, which might be an indicator of a place where water intrusion could happen behind the brick. The mortar may just need to be replaced/repointed, but it's worth noting.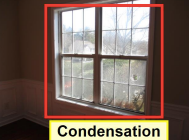 "Foggy" windows. If the windows in the home appear foggy or you see little water droplets that appear to be between the panes (of double-pane windows), this means that the seal between the panes has been damaged. Fogging happens or condensation appears when the seal between the two panes of glass wears down or fails totally. Once the seal fails, moisture is allowed to seep into the space between the two pieces of glass. While this is largely a cosmetic issue, the fogging will get worse over time until the window is quite opaque. It may be possible to just replace the glass panes or just replace the sash in which the fogging is occurring relatively inexpensively, but large fixed windows (such as those above a front door in a two-story foyer) may be very expensive to replace.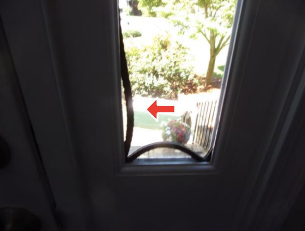 Displaced window glazing or insulation. When you see black tubing or similar material popping inward on the window, it's likely this is related to the item above and is another indication that the window seal between the panes of glass has failed. Largely cosmetic, again, but depending on the size of the window, it may be costly to repair.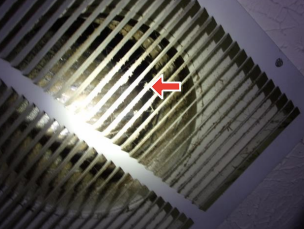 Dirty ducts. An overabundance of build-up on the HVAC registers and returns may be a sign that you need to get the ductwork cleaned. This is something to pay close attention to if the home has pets or if you (as the possible new homeowner) or someone in your household has allergies.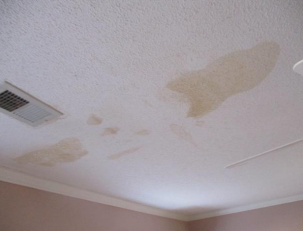 Water stains. Staining on a ceiling or around windows may be an indication of an active leak (stains may also still be present from an old leak, long repaired, but information should be obtained from the seller, as well as a moisture reader used to check if the stains are currently wet). Once the leak is repaired, stains can persist or reappear if the area is not primed and painted correctly.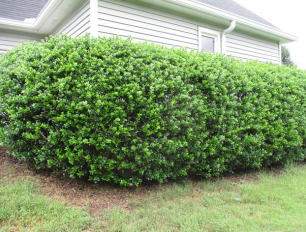 Overgrown landscaping up against the house. Bushes and shrubs that are overgrown and too close to the house may allow moisture to stay up against the siding, which can cause damage and deterioration to the siding and any wood trim. Plan to cut back overgrown landscaping to keep your home in good repair (and because nice landscaping just looks better.)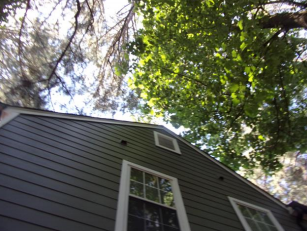 Trees hanging over the roof. In Georgia, squirrels and other tree-dwelling rodents like to use trees hanging over your roof as an easy access point to get into your attic and burrow in your nice, warm insulation. Keep an eye out for trees hanging over the roof, and plan to hire a landscaper or tree service to cut them back once you're the owner, in order to keep those little pests out of your home!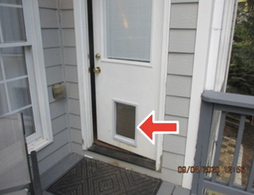 Pet door. Keep an eye out for pet doors -- either leading from inside to outside or leading from room to room in the home. the current owner has pets and has had a pet door installed, you may want to budget to replace that door. Once a door has been cut to install a pet door, you will either need to leave the pet door in place, permanently close it off, or replace the door (and exterior-rated doors can be pricey).