Radon testing is an important part of the home inspection process in Georgia. We recommend to all of our homebuyer clients that a a radon test be part of their due diligence, when evaluating a home for purchase and going through the home inspection process.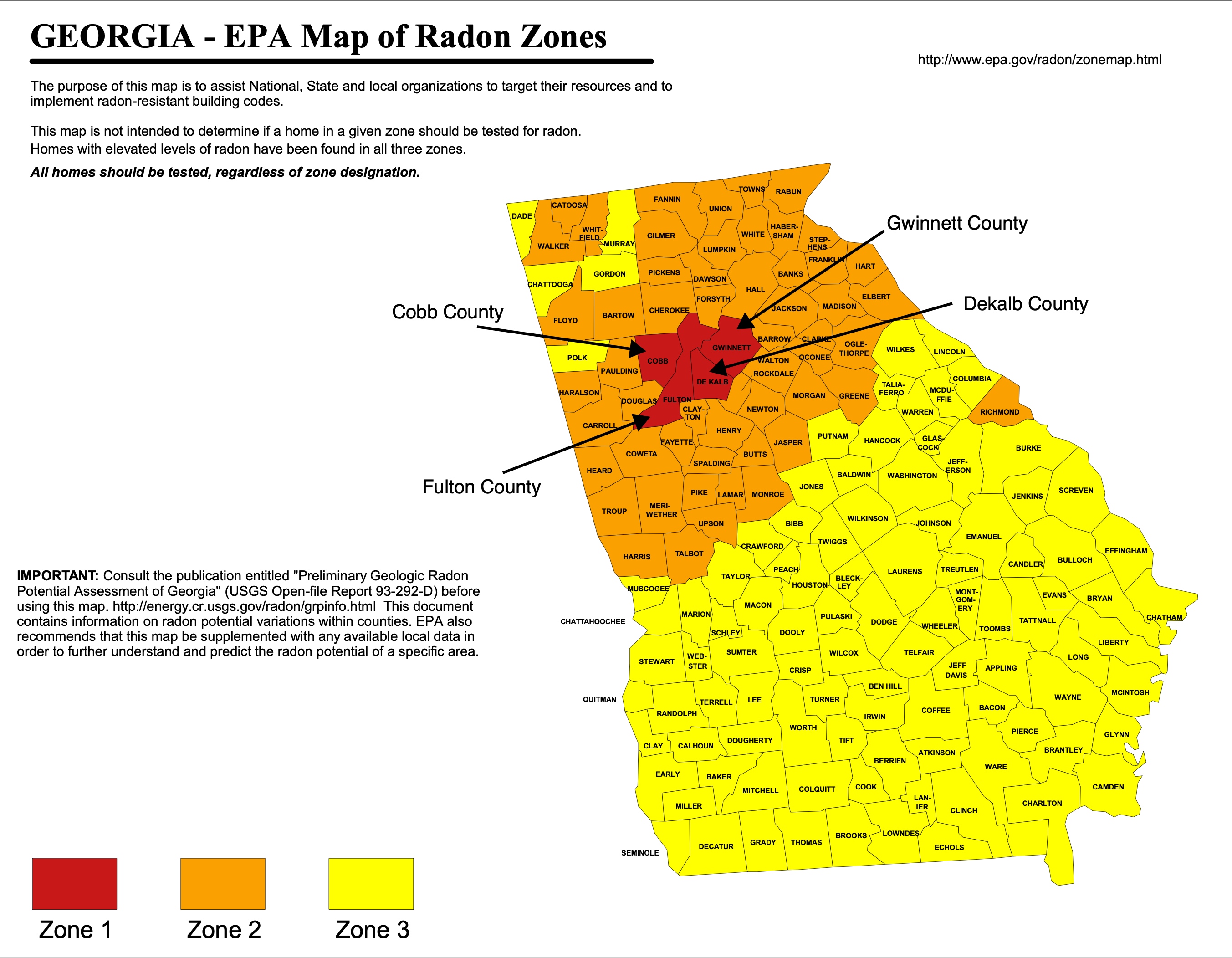 Radon map from www.epa.gov/radon
What is Radon?
Radon is a naturally-occurring gas in the earth that is known to pose a heightened risk of lung cancer in those who are exposed to it for a long period of time. The Surgeon General of the United States warns that radon is the second leading cause of lung cancer in the United States today.
The Environmental Protection Agency (EPA) has established an acceptable range of safe levels of radon for inside air quality to be below 4.0 picocuries per liter (or pCi/L), which can be measured and, if found to be higher, professionally mitigated to make the home's air quality safe for its inhabitants.
Why Do We Test For Radon in Homes?
Unfortunately, we cannot see, smell, or taste radon gas, so without having a qualified professional test for its presence, you may not even know it's there. For a relatively low cost (usually between $150 to $250), a professional home inspection company can test for the presence of radon in a home, and this should be done, in our opinion, during the time that you are conducting other inspections on a home that you are considering purchasing. (Please click on these links for more information about the importance of home inspections during the homebuying process and for other types of inspections that you may consider when you are buying a home.)
Radon has been found in homes all over the United States. Here in Georgia, especially in the north metro Atlanta area, radon can be a commonly-found issue in homes, especially those on basements (though not isolated to only homes on basements -- more about that below). Four counties in the metro Atlanta area are identified by the EPA as being in "Zone 1," meaning a higher occurrence of a level of radon that exceeds the acceptable range for air quality within a home (see map above). However, the EPA recommends (and we agree) that every home should be tested for radon, regardless of what zone it falls in, since radon can be found everywhere.
I've Heard That Only Homes on Basements Have a Chance of High Radon Levels
We've heard that, too. However, we have always recommended that all of our buyers get radon testing, and we're glad that we have. Just last year, we had a client purchasing a newer construction home that was built on a slab, and the radon test came back with one of the highest readings we've ever seen (over 9 pCi/L!). The home required mitigation to make the indoor levels safe for our clients to live in the home. It's proof (to me, at least) that radon is everywhere and testing should be a part of the normal purchase process for all homebuyers!
What Happens If A Radon Test Comes Back High?
If a radon test on a home comes back with a higher level than the EPA recommends as "acceptable," it's not necessarily a reason to terminate the contract. Radon mitigation is possible, effective, and fairly affordable. It may be possible to negotiate this as a repair with the seller of the home; at the least, it should be possible to obtain quotes for mitigation during the due diligence/inspection period in order to prepare to have the mitigation completed yourself before you move in. If you are working with a REALTOR®, they will be able to advise you on this part of the process.
If you are not in the homebuying process but you live in a home that you did not have tested for radon at the time of purchase, perhaps consider reaching out to your REALTOR® or your home inspector to inquire about having the test done now -- it's a relatively small amount to spend for peace of mind and to protect yourself and your family!
For more on radon and radon testing for homebuyers and -sellers, you can download our brochure "Home Buyer's and Seller's Guide to Radon" from the EPA by clicking here.